A rising talent in the bustling New York theater scene, Jason Jacoby is equally at home as an actor, puppeteer, and singer. Jason is currently starring in the Tony-award winning musical Avenue Q Off-Broadway at New World Stages, playing Nicky/Trekkie/Bear. No stranger to Avenue Q, he previously starred in Smithtown PAC's and Skylight Music Theatre's productions in 2012, directed by Rick Lyon and Donna Drake, respectively. He has studied puppetry with John Tartaglia, Matt Vogel, Marty Robinson, and Peter Linz.
As the puppet/dance captain at Avenue Q, Jason is the ideal person to hire for coaching regional and collegiate productions of the show. He's lent a hand to productions at Penn State University, The Waterfront Playhouse, Spotlight Theatre, and Shining Studios LI, and has taught puppetry master classes at Pace University, The Studios of Key West, NYMF, Park Playhouse II, and multiple classes for Audience Rewards. He was also a puppet consultant for the upcoming Tina Fey stage-adaptation of Mean Girls.
A favorite non-puppet credit of Jason's is when he appeared opposite Bruce Vilanch (Hollywood Squares) and Jerry Adler (The Sopranos) in Rubble at NYCFringe 2013, written by The Simpsons writer and The Critic co-creator Mike Reiss. Playing a multitude of characters, Jason was hailed as "nothing short of hilarious– comic relief in a comedy." (nytheatre.com)
Past highlights include Park Playhouse's 2012 production of Cabaret, where he was lauded for his "shatteringly vulnerable" portrayal (Time's Union) of the Master of Ceremonies. Previously at Park Playhouse, Jason played Leo Bloom in the 2011 season hit The Producers, where he was branded as "utterly winning as the nerdy Leo Bloom", and Lumiere in Beauty and the Beast (2006).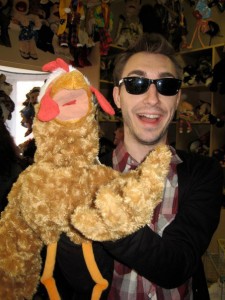 Past credits include | Off-Broadway: Rescue Rue (Apollo/others, NYMF 2014), G.B.S. (Sam, U.S. Premiere, Clockwork Theatre). Off-off B'way: Reckless (Roy/Tim Timko, The Gallery Players), Welcome to New Jersey (Martin, Vital Theatre), Men in a Bottle (John, TheaterVision). Workshops/readings: Le Hot Blu (Doc Henschel, NYTW), The Piper (Finian/others, Capital Repertory Theatre), Red Masquerade (Richard Trent/Tim, Shadowland Theatre), WoO (Scarecrow, Full of Noises), as well as numerous readings with Dialogue with Three Chords. As a voice-over artist, Jason can be heard in commercials for Budweiser and Mac Weldon, and on TV in Pokemon.
Born and raised in Montrose, NY, a small hamlet nestled off the east slope of the Hudson River, Jason took a strong interest in performing at an early age.  Heavily influenced by his icon, Jim Henson, Jason has been improvising puppet movies since the ripe old age of five. He starred in musicals throughout middle and high school, appearing in such works as Guys and Dolls, Damn Yankees, A Funny Thing Happened on the Way to the Forum, The Sound of Music, and Godspell. 
Jason holds a B.A. in Theatre Arts from S.U.N.Y. New Paltz where he appeared in Tartuffe (Valere), Sunday in the Park with George (Franz/Bob), Anything Goes (Billy Crocker), Lucky Stiff (Man 1), One Flew Over the Cuckoo's Nest (Cheswick), A Flea in Her Ear (Tournel), and Batboy: The Musical (Dr. Parker).
Click to view Jason Jacoby's Resume!